Blind Sus
pizza by chefs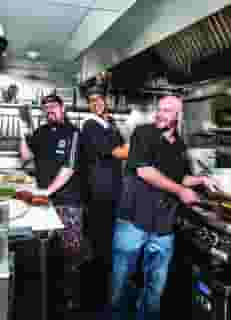 Gastropub Style Pizza & Wings
Located above The Common restaurant and bar on Broughton street, The Blind Sus broadly faces the iconic Marshall House in historic downtown Savannah, GA. Like many creative endeavors before it, the idea for the Sus was born from necessity during the COVID-19 lockdown in April of 2020. While a dine-in ban was in effect across Georgia, we were sitting around the empty bar at Common, strategizing ways to keep our little business alive. Locally owned and operated, it had taken five years of hard work to make The Ordinary Pub successful, the last two years of which were also spent renovating and opening our second offering, Common, in the historic building that once housed The Orpheum Theatre and Punch & Judy. Just five months after opening Common, the uncertainty of our future was staring us in the face. It was clear that the lively atmosphere inside of our restaurants wasn't going to return anytime soon and we faced the same decision felt by restauranteurs across the world: let the times decide our fate and shut our doors or role up our sleeves and survive.

So, we got on the phone and found an old Montague double deck oven named "Mad Mary" from a guy called "The Pickle Man" (yes, he's real). With a crate and a prayer, we lifted the 3,500lb oven through our back window and got to work. Armed with a team of chefs from both The Ordinary Pub & Common, we started working on a butter dough crust recipe and a tomato sauce worthy of "the old country" and started making pizzas. Able to reimagine our protein and veggie recipes from both restaurants as toppings, we were able to continue working with our local vendors, reclaiming a little sense of normalcy in times that were anything, but. 

We are now proud to serve you our " pizza by chefs" for hopefully many years to come. We would like to think no matter what the world throws at us there will always be a meal, a beverage, and way to serve our guests.
Prepared by Chefs
After a good amount of pizza "testing" (including which went best with Scofflaw Basement Ale and Whistle Pig Rye) we decided to share the menu with you. We have teamed these pizzas up with our "thrice" cooked wings tossed in house made sauces, cold beer, & craft cocktail to create a very unique dining experience. The Blind Sus is devoted to bringing you pizza & wings made by Chefs.
Visit Us
Savannah, GA
118 East Broughton St.
Savannah, GA 31401

Hours
Tuesday - Saturday:
5:00 pm - 10:00 pm